Upcoming
Exhibitions and other activities
Boomtown
#güterbahnhofmülheim
February/March 2020. Digital drawings and photography showing the upcoming Güterbahnhof Mülheim as a new district at the Schanzenstraße Cologne. Watch some videos of my drawings.

Die Videoperformance zur 11. MÜLHEIMER NACHT im Auftrag des STARKE VEEDEL BÜROs muss leider entfallen! Im Schaufenster des Ladenlokals Berliner Straße 67, 51063 Köln, läuft die Animation auf einem Screen.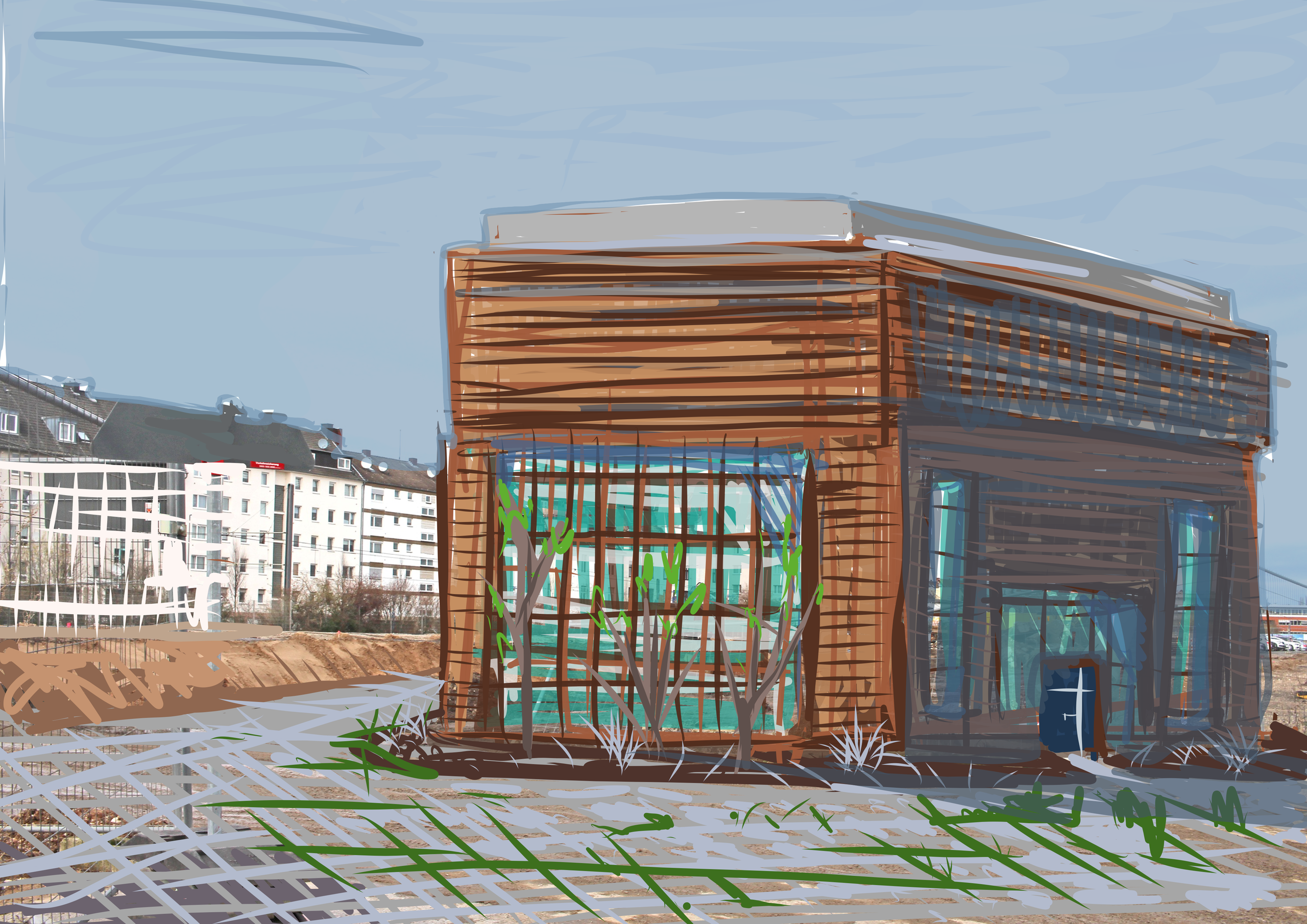 Exhibition at SPD Bürgerbüro Mülheim, Buchheimer Straße 20, Cologne
Vernissage 8. September 2019
Thanks to Michael Frenzel (left) for his opening speech.
.
Digitaldrawing Videoclips
#erschütterndeereignisse

Sunday 12 May 10 - 11.30 a. m.
Lindgens Lokschuppen, Hafenstraße 7, 51063 Köln
Rheinboulevard Mülheimer Hafen
Party am 10. Mai 2019 ab 19 Uhr im Lindgens Lokschuppen.


Internationale Photoszene Köln
3 until 12 May 2019
Eva Rusch, Erschütternde Ereignisse, Digital Paintings, Installation of Big Prints


What's the power of the photograph, what's the power of the painting? And what happens when you combine the two? Eva Rusch takes press photos and expands upon them through painting and sketching to create something new. These clippings are collaged digitally, sketched and painted over on the iPad, printed out and brought together as banners in an installation. Motifs are shocking events, like the destruction of the Cologne City Archive, 9/11, or similar catastrophes that occurred during her lifetime.


Was kann das Foto, was kann die Malerei? Und was entsteht aus der Mischung? Eva Rusch nutzt Pressefotos und erweitert die "Schnipsel" malerisch und zeichnerisch zu etwas Neuem. Die Ausschnitte werden digital collagiert, auf dem iPad übermalt bzw. überzeichnet, ausgedruckt und als Fahnen in einer Installation zusammengeführt. Motive sind erschütternde Ereignisse, wie der Einsturz des Kölner Stadtarchivs, 9/11 oder ähnliche Katastrophen, die sich in ihrem bisherigen Lebenszeitraum ereignet haben.

Vernissage:
5 May 2019, 11 a. m. until 14 p. m.
Opening hours:
6 May closed
7 until 9 May, 18 bis 21 p. m.
Party:
10 May 19 until 22 p. m.
Sunday 11 and 12 May, 10 until 11.30 a. m.
Location:
Lindgens Lokschuppen, Hafenstraße 7, 50163 Köln, close to KoelnMesse Deutz
www.lindgens-gastronomie.de
Photoszene Köln
www.photoszene.de
10. Mülheimer Nacht
6 April 2019
Eva Rusch, Green Hope, Digital Paintings, Installation of Big Prints

For Silvia

Location:
Café jakubowski, Mülheimer Freiheit 54, 51063 Köln
www.cafe-jakubowski.de

Mülheimer Nacht
www.muelheimernacht.de